New to New England Engineering?
Click on the questions below to find out more.

Why do I need an MEP & FP Firm?
New England Engineering offers licensed professional engineering services for all disciplines, including Mechanical, Electrical, Plumbing, and Fire Protection. By choosing an MEP&FP firm like NEECorp, design time is reduced and quality is increased because all trades can be coordinated throughout the entire design process. This approach greatly reduces engineering change orders for even the most complicated projects.
How do I choose an Engineering Firm?
An engineering firm should maximize your profitability and productivity, and should be as concerned about your customers as you are. Experience and dependability separate New England Engineering from other firms. Our clients expect satisfaction - We earn loyalty.
How does my current Engineering Firm measure up?
Ask yourself these 5 major questions to evaluate your current MEP & FP firm:
What fees does your current firm charge you? Why?

What value does your current firm bring to the winning proposal?

What has your firm's past record been on projects?

Is your current firm versatile and comfortable with different architectural styles?

What level of attention does your current firm give you and your clients?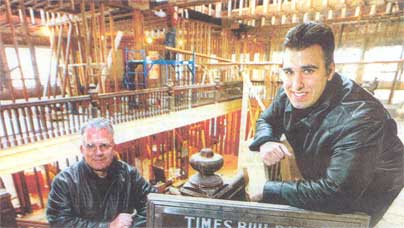 Clients Yiannis and Peter Davos of Davos Supreme Enterprises pose for a picture inside the newly renovated Times Building in Brockton, MA.
Picture courtesy of the Boston Globe
Read about us in the New England Real Estate Journal and the Boston Globe:
106 Bridgewater Plaza(PDF) (Bridgewater, MA)
Times Building Renovation(PDF)
(Brockton, MA)
Spaulding Building Renovation(HTML)
(Ayer, MA)